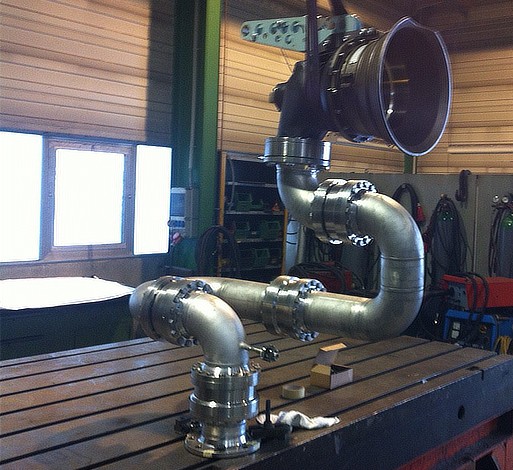 For a newly developed system for refueling ships at sea, EZM engineered the delivery station on the receiving vessel. Because refueling takes place at sea at full speed, the flexible swivel joint must be capable of withstanding both, horizontal and vertical motion. The diesel fuel is transferred by a tube laid between the supplying and receiving vessels.
The flexible swivel joint was also equipped with an emergency separation connection, in order to ensure safe, no-leak separation of the tube if the supply vessel should drift away from the receiving vessel.

The entire project - from engineering design and load testing to pressure and leakage testing and final inspection - was supported and monitored by DNVGL and our customer. The swivel joint selected was the SVG-DN150 split flange swivel joint made of 1.4571 stainless steel.